Few Clever Ways to Keep Your Old Blog Posts Alive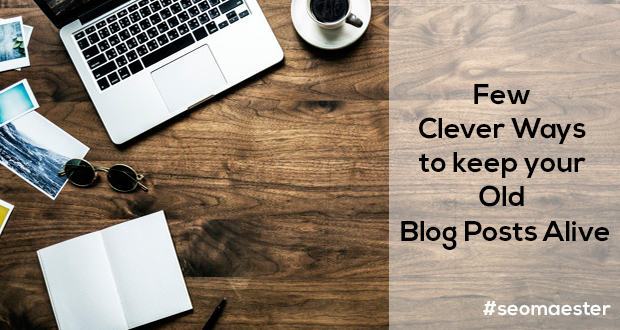 Are you a blogger? Are you a new blogger? Whosoever you are, this will be an important article for you as no one will want their older posts to die. With year's given to blogging, I always feel to give something different to my readers. Hence, I am here not to let your older contents to die and stay fresh.
 Everyone dreams of getting higher ratings to their post, but as these get older, contents die. In this content, I will tell you some best ways that will make the older of your contents fresh. Are you interested in learning some tips that how to make your old blog post alive again? Obviously, you will be as if you think like me, and you must be thinking about the time that you have invested in writing these contents. I did this thinking that every of the article in my blog is relevant to my existing and potential readers.
 Following are a few ways that will help;
1- Editing of The Older Contents Titles
When an article is written, the title is always there. To renew your older content, the first and the main thing that you will have to do is to edit these titles. Make these titles more attractive then they were before. When you alter the title, it is obvious that your SEO won't be disturbed. The change of display title will be a piece of new information for Google, and therefore, it will pick up and rate on a search engine.
2- Image Creation and Pin on Pinterest
 Pinterest for bloggers is very useful as it generates higher traffic. I am sure you are willing to get higher traffic. Pin the picture from your content which has not yet been pinned. This will attract some fresh traffic.
3- Link Older Post to New
This is one of the most clever ways that bloggers normally ignore. Internal link building is stronger SEO technique, and we recommend all the readers to build links. The latest post should be linked to the previous post. 
4- Share on Social Media Network
Nowadays, social media networks are used globally. Example of social media network are Facebook, LinkedIn and Twitter, etc. Your older content links should be shared on these social media networks. By sharing on social media network will help refresh your older contents.
5- Rewrite Post with Updates and New Content
A refreshment to the content is necessary. This will make Google get some new information that will make Google rank higher on search engine. New ideas should be used in the older post that will give new information to Google.
 These were some ways that will help you keep your articles fresh. I hope you understand well. 
 Are you interested in asking any questions? Comment below, I am here to answer all your queries.