Run a Blog Survey to Know the Taste of Your Readers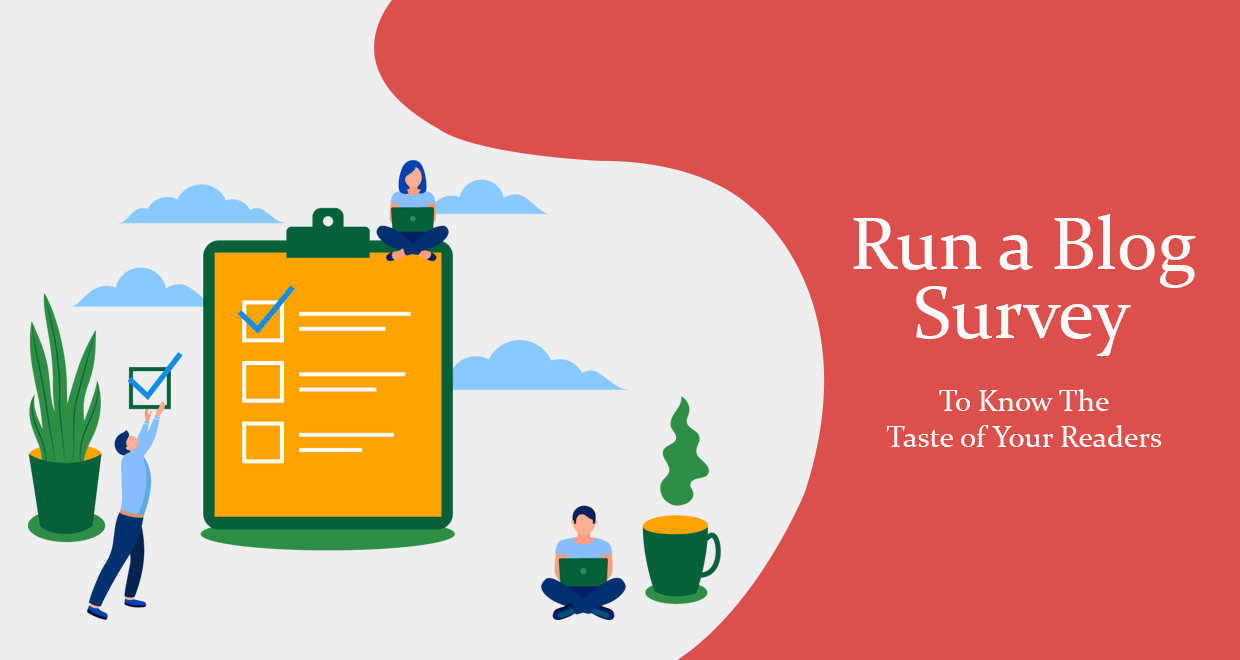 Every blog owner loves to know the taste of their reader for they allow the authors to come up with extra trendy posts that take its readers by great interest and surprised with their feedback. If you survey live, asking readers how often they should be posted in a week. Its come up with 1 post a week. The majority of them wanted to hike the frequency of posts with 90 percent stating that they need at least 3 posts a week. I was glad to know that readers wanted more which couldn't resist the appeal and went with the 3-posts-a-week convention. It really feels proud, raised the reputation and turned the blog into a trustworthy resource.
There are top 5 questions to ask your readers in the survey that how often do you visit my Blog?
As it would help the authors to know where the blog stands in attracting visitors and is that bouncing away to better resources or not.
The next question is what are your favorite picks of topics?
As an author should know the exact interest of their readers. Once they give feedback, which is more precise than the common 'blogging', it becomes quite easy for the author to target his next post, which is based on the reflected interest. This guarantees for the more viewers, have better search engine ranking and in return the better reputation.
The third question is Do you have any Problem you would like to address the blog owner?
Just as the common by word goes by, every day ends with night. Even after hours spent on design, the readers may still be unsatisfied, this is plain because your perspective is that of an author while the others look at your blog with a perspective of readers So why don't welcome the suggestion from the readers end? Kindly open up for the words of your fellow readers. It would help you to serve them in a better and much resourceful way. Once you are able to establish a trust in the readers mind, you could easily grow your blog and expand your horizon such as diversifying the niche or when starting a new micro blog.
The fourth question is about interest in our premium services?
A blog is funded by a strong financial input and cannot stand on its own. Therefore the need to monetize certain features of your blog becomes necessary. You are sure with your reputation by reader survey as it kept undisturbed. You could easily grab the feedback of the readers by service and make amendments corresponding to the feedback received.
The fifth question is about your email address?
As this is an important part but yet optional because readers are often hugely cautious about their privacy. If you are asking for the reader's email address, I would recommend you to convince them that their mail is going to be safe with you and spamming policy has to be amended.
Organizing a reader's survey is very much easy especially if your blog is based on WordPress as they are abundance of plug-ins to serve the purpose. But if you have hosted your blog somewhere else, still you don't need to worry as many websites offers genuine and better survey tools.
By these questions, you come to know how you run a blog survey to know the taste of your reader.