How to Optimize Your Content for Google's Featured Snippet Box?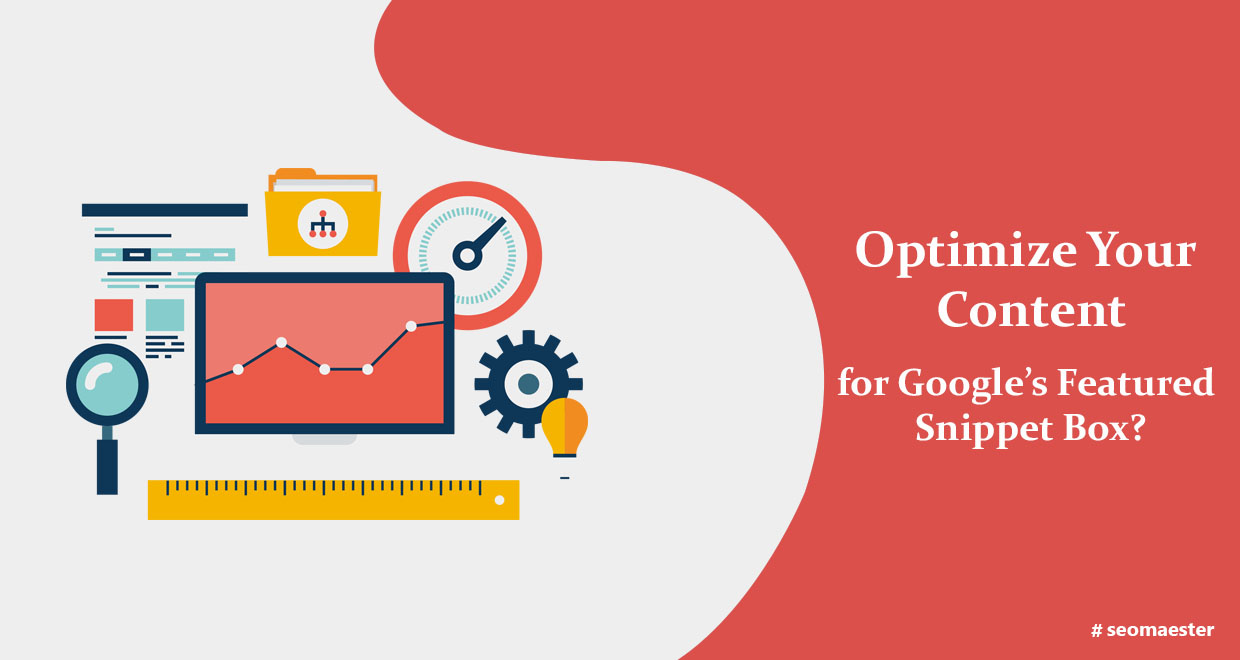 What is Snippet Box? How google features for Snipped Box? Starting from the definition of the Snippet Box you can understand that it is a form ofdescription extracted from web content and web pages to match the Google results. Before we move forward, you need to know that Snippet is not the same as a whole SERP's. Search engine research pages (SERP's) are documents written on keywords you have entered in Google search bar. Whereas, Snippets are paragraphs or points cut from relevant pages. Google does that for you so you can get a direct answer without having to open the whole page.
Snippets are displayed before the SERP's in clear, bold writing. For example, if you search How to bake donuts? A snippet of the answer in the form of a paragraph or list will appear. They will give clear instructions. Google filters direct answers for you. You do not have to open every URL and webpage to reach an accurate answer. Snippets are exactly what their name entails, a short excerpt from a whole load of words. You can read directly from there or choose to click on that particular webpage. Snippets are displayed below the ads to make the experience even more enlightening for the viewer.
The Forms of snippets available: 
Snippets are displayed in more than one form. It all depends on what you have put in the search engine. Usually, they are shown if a question is asked. In the past years, Google has advanced its SEO expert techniques. Snippets are features inList, table, paragraphs, videos, and rich answers.
Detail of Features:
Paragraphs are the most common type of featured snippets. More than half of your quarries are directly answered in paragraphs. The next common form is the list. Half of the answers are in list form. Step by step guide is available for your answers. If your answers require statistics and data it is answered in table form. You can directly read your answers from that. You do not always have to read to reach your answers. Visual and auditory forms are available in videos. Search engines highlight the portion of the video that will directly link to your question. It is a time-saving technique and less hectic. What's better is you do not have to browse the whole video when you can just watch your specific portion.
Rich answers may be the last shown, but they are the most sought after. You probably love search engines when they give you directtwo to three-word answers. You also get a little description along with the answer. They are metric based answers.
Why Google has started to prefer Snippets? 
To know the answer to that you should also know that Google has recently advanced its system. It searches the relevant web pages on social media through algorithms. These algorithms have seen major changes. A few years ago, you could have fooled google easily. Keyword stuffing and repeated URLs guaranteed you the top-ranked searches. It is still a mystery of how algorithms work, but SEO experts have found a way to enhance your ranking for the first page.
Attract more traffic: 
Snippets are smart answers, they are also less time-consuming. They provide you immediate route with click-through options. When this feature was launched people were worried their web pages were going to face major setbacks. But statistics have shown that it has done quite the opposite. It guarantees you more organic traffic. More clicks have been made on websites. Snippets seem to win over the customer's confidence and guide them to ranked URLs. You just have to work a tad bit more. Users may not be clicking on your pages but they are still seeking information.
Gives you Control: 
Snippets are also less detail-oriented. Now instead of beating around the bush, you have to give the exact information. Only then will your pages be featured on top-ranked results. It provides fewer opportunities for 3rd parties to interfere. There is no vague information. You can control what you are displaying to the users. Without interference, you are a huge advantage of attracting traffic towards your sites.
How to land the best snippets: 
There are some tips on which you can create top-ranked Snippets. You have to create answers inside the domain. Work to create exact answers the users are looking for. Also, you need to produce high-quality content. You can add a question-answer session at the end for clarifications. You have to research to know the questions that will be in the users' minds. Think through the perspective of