How to make your PDF files SEO-friendly?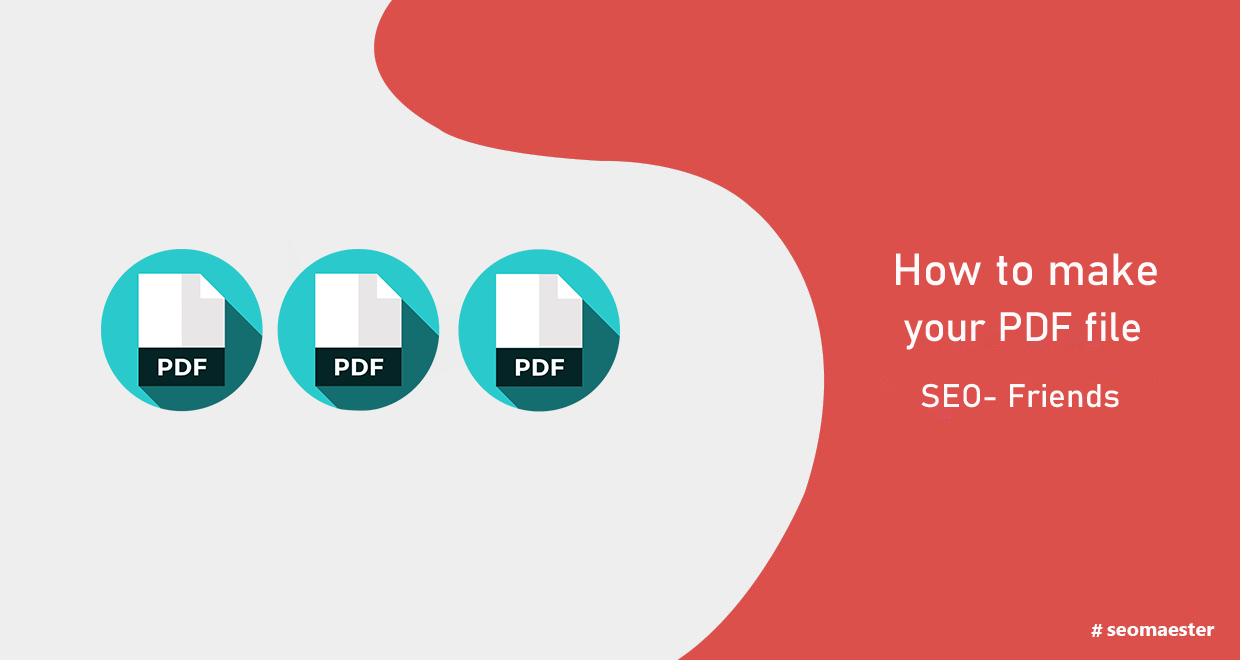 The digital world is far more complex than you would like to think. One of the major mechanisms that are used to index the files and documents that are uploaded on Google every day is to use Google crawlers. These crawlers make sure that they index billions of files and documents on a daily basis. These documents can be pages, PDF files, and even images. Many people will forget to SEO-optimize their PDF files, which causes them to lose the extra traffic that they could have gained through indexing an SEO-optimized PDF file. PDF files, just like Google pages and images, have the ability to attract a lot of traffic. Many websites are using PDF files to serve e-books, whitepapers, and manuals. Here are a few tips you can use to optimize your file to appear higher up on the search engine. 
Choose an SEO-friendly Filename: 
On the search results, the first thing that gets searched up is the name of the PDF file. It has to be meaningful for the people that might be searching it up. This means that the name shouldn't be too long, and there should be a relevant keyword in the name as well. If the name of your file is relevant to the person searching for it, then it is less likely to end up on the first few pages of the Google search rank. This is why you should go for keyword centered names so that your file name will already have a word that has a good search rank. 
Define a good title and Meta description: 
Google applies the same mechanism for evaluating the usefulness of your file as it does for the pages. So, your title has to be one that will demand the interest of the reader; when the reader is scrolling by, he or she must be able to take an interest in the title of your page and click on It to read the content. But this cannot happen if the title is not relevant to the readers or catches their attention. 
Include Links: 
With a page, we know that adding a link or multiple links to your website increases its credibility such that your page seems more authentic. The same is the case with PDF files. You can feel free to add multiple internal links and add external links if you feel the need as well.
Use headings to structure your PDF files: 
You can improve your search ratings using well-defined headings. Headings are used for the ease of the readers. Readers might not have the time to skim through the entire of your file. Giving them the liberty to skip through the non-relevant parts to the parts that really interest them is a feature that is liked by Google. This is why when you have well-defined headings and sub-headings, and your file is well structured, Google will improve your search rankings. Your file will become more useful to people than the rest of the generic files. 
Prevent Duplicate content: 
PDF files are treated by Google as normal pages; this means that duplicate files are very much likely to happen if not properly attended to. You can use purchased tools or online tools to make sure that the content in your files does not have any plagiarism. This will have a very bad impact on your Google search rankings. You want to make sure that on Google, you are publishing original content with 0 plagiarisms. This not just helps your search rankings but will also make your content much more useful to the readers than If you were to plagiarize the content.