7 Key Elements to Create Content That's Beyond 'Great'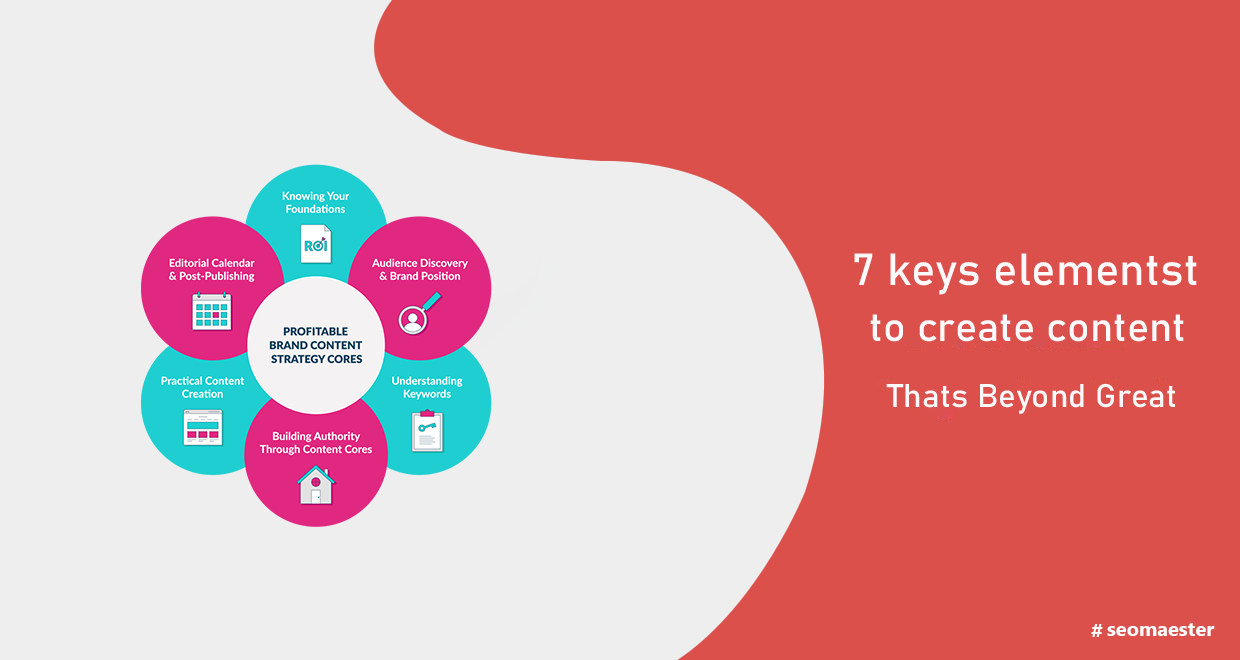 Writing piles of content and simply putting it online is not the main purpose. The main purpose is to put such content, that it attracts the people who visit your website in order to convert them from mere visitors to possible clients. This is not possible with quantity. Rather it can be done only with quality. There are a number of techniques in which you can make your content really interesting for your customers and making your content beyond "great". Those techniques are as follows.
1- Original content:
Whenever writing a blog or an article to put online, you must always make sure that you are not copying anything from other websites. Not only the customers are able to recognize copied stuff, but it is also punishable by the various search engines. So if you don't want to lose your hard earned rankings on the search engines, then avoid using plagiarised content. 
2- Make it business oriented:
Different manufactures produce different things. This means they have a different customer base as well. So in order to attract your target customer, you should make it suitable for that particular group. For example, if your main customer base are young people, then you need your content to reflect that it is for young people and teenagers. This would mean different tone, different vocabulary and different types of graphics. 
3- Using call-to-action words:
Another way to make the content great is to use various call-to-action words in your contents. These are also called power words, which urges the customer to apply the information that is being given to them. But be very careful when using such words. You won't in any way want to disrespect your customer. You are requesting them to use the information being provided rather than telling them what they should do. There is a very small difference in being persuasive and dictating, so make sure you don't cross that line. 
4- Relevant to the topic:
One of the things that really destroys the tone of the article and makes it redundant, is the writer trying to just fill the word count. You might feel that you are being very careful and might even feel smart, but keep one thing in mind. The reader will notice it in the first go if your content is not relevant to the topic. Therefore, in order to keep the reader attentive towards what you are saying, stay relevant to the topic and talk about only the thing that is under consideration.
5- Using graphics:
One of the best ways of making your content beyond great, which has also been praised by a number of blog gurus as well is to use relevant pictures and graphics. It is an established facts that users are much more interested in content that comes with pictures and various graphics. Not only does it develops interest, but the readers are also able to retain the information better in this way. 
6- Provide real world examples:
Credibility of the information in today's world is of paramount importance. Social media is filled with fake news as well as propaganda. Therefore, whenever you are presenting an argument, make sure that you are backing it with a ton of real world examples as well. Another great way is to use various tools such as case studies, scientific data or any other form of data, which can be traced back to the origin. This will help you in building the trust of your customers on the information that you provide to them.
7- Use headlines:
Internet and social media are filled with heaps of information. By putting a simple keyword, you can have access to unimaginable amounts of data. Therefore, if you want to attract visitors to your data, try to make interesting headlines. There are various SEO practices that you can use in your content as well. Those include giving an intriguing title, adding metadata, making interesting headings and adding relevant graphics. If visitors find these things interesting, they are more likely to spend time on reading the whole content.