10 Social Media Tools You Need To Use In 2021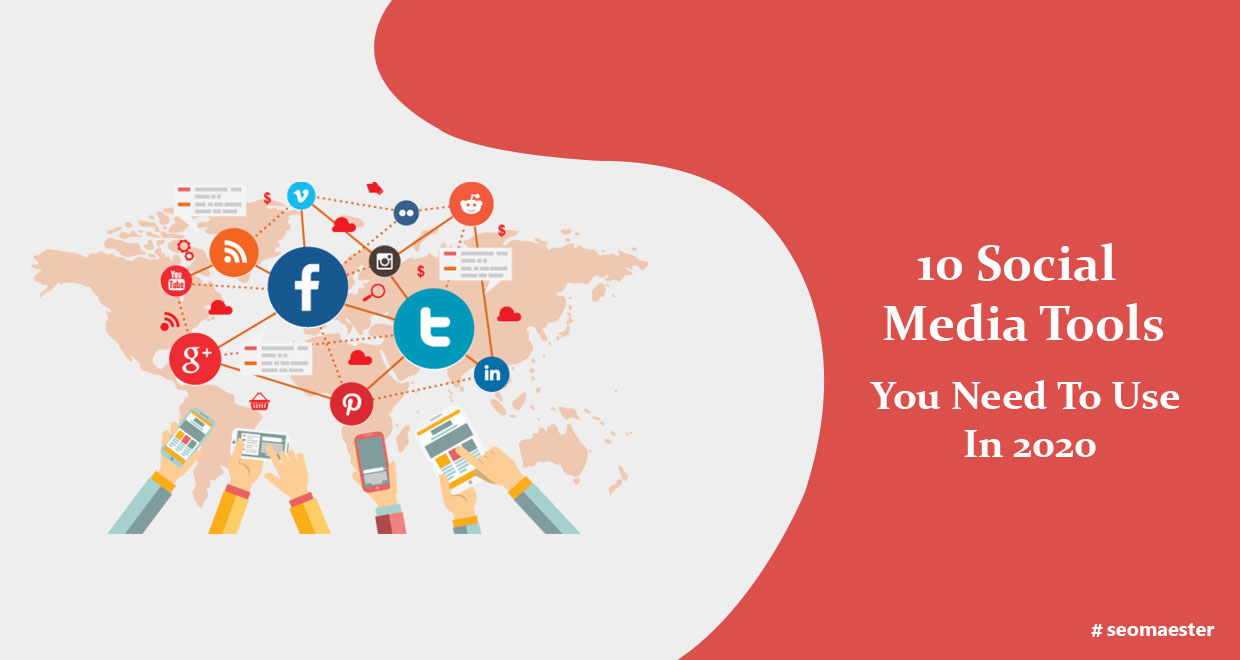 Social media tools are important to manage essential channels in digital marketing nowadays. The social media standards change daily. One thing that was popular yesterday, might not be today. So, social media managers, marketers, and entrepreneurs need to use the updated version of the tools that completely covers all the requirements of marketing. The list below shows some of the important tools that you need to use in 2020 for your business growth and media management.
BUZZSUMO:
BuzzSumo is a social media tool that lets you find the top shared content and influencers based on your search queries. It is a tool that allows you to reach your desired content by the topic, domain name, or any specific keyword that can help find the relevant content of your choice. BuzzSumo allows you to refine your search queries based on what is currently trending.
PRICING: The plans start from $99 per month.
CANVA:
Canva is a tool that is widely used for creating layouts, presentations, designs, CVs, logos, posts, and much more. Everyone can have easy access to Canva to create whatever they want. These can either be brochures for a campaign, post for Instagram, and any logo for the company or a restaurant, etc.
You can either create new templates in just a few seconds or buy the ready-made templates to save time.
PRICING: It is free or starts from $9.95 per month.
GOOGLE TRENDS:
Google trend is a free tool that is launched by Google to help the users search for the trending content easily. It helps you to track different topics on different social media platforms. It uses keywords to manage search queries. With the help of keywords, this tool allows you to monitor and compare the current volumes with the previous one. This tool is essential as it can support different actions and platforms.
PRICING: Free
SPROUT SOCIAL:
For scheduling the updates, to view insights of your account, for managing multiple client accounts, Sprout Social is the solution to all of these problems. It manages and monitors social networks on various platforms that ensure their smooth running. Moreover, it provides analytical services to thoroughly analyze the data.
PRICING: It starts from $99 per month.
BUFFER:
It is a simple tool to share content on and through Facebook, Twitter, and LinkedIn. It allows you to schedule social media posts and updates, and also manage various accounts in one place. Buffer also provides an image editor, through which one can easily frame the perfect picture size and format for each network.
PRICING: Buffer usually starts from $15 per month.
LATER:
Another tool that helps a lot in managing social media platforms is Later, which is used for scheduling the posts for Instagram, Facebook, and Pinterest, etc. It creates a calendar that manages your upcoming posts, events, or updates. You can complete your work ahead of time, such as of next week, and then schedule it to automatically post those works.
PRICING: Usually free.
FEEDLY;
Feedly is a web reader that gathers all the information in one place. It also allows you to organize your feed and let you know about the trending topics over the net. Using Feedly, you can prioritize your things on your feed and highlight the content you want. You can either use it to organize your profile or to read any topic for your interest.
PRICING: The programs start from $6/month
SNAPLYTICS:
Finding a deeper analysis of social media stories is also a different kind of service. This can be done through this tool called Snaplytics. It allows you to give an insight into the audience interacting and the rate of ongoing activities on your particular stories. Those companies that work with influencers can have an insight of what the response of the audiences using this tool.
PRICING: It starts at $19/month.
REBRANDLY:
Rebrandly is a social media tool that helps you to shorten all the links that you have on your profile. This tool allows you to add your company/brand in links to increase URL friendly access to the clients. It allows you to make qualified links for future use.
PRICING: Free trial or $29/month.
SOCIALFLOW:
To manage your social media campaigns, Social Flow tool allows you to manage, and simultaneously, make a record of all the earnings and promotions of the campaigns. This also provides scheduling and optimizing tools for the social network. It has its ad builder that can create the ads quickly.
PRICING: Depends on the needs and functions.
VEED:
VEED is the easiest way to create stunning videos for any social media platform. VEED is the simplest way to add effects to a video online. Video effects are fun, and with VEED they're easy to use, but our online video editor has much more to offer than just effects. VEED is a powerful, but easy-to-use video editing suite for content creators. You can apply stunning video effects to your videos and make them stand out. VEED is the only online video editor that lets you add real-time video effects. You can add VHS, Glitch, Snow, Black & White, Filmic effects and more! Veed was also built so you can make great content fast and our editor was designed to be simple so no previous experience is needed. Veed allows for subtitling, editing, effect/text encoding, create overlays, cut between scenes, screen recording and many more advanced features that other editors just can't compete with.