WordPress 5.5 is here! 5 Things You Need to Know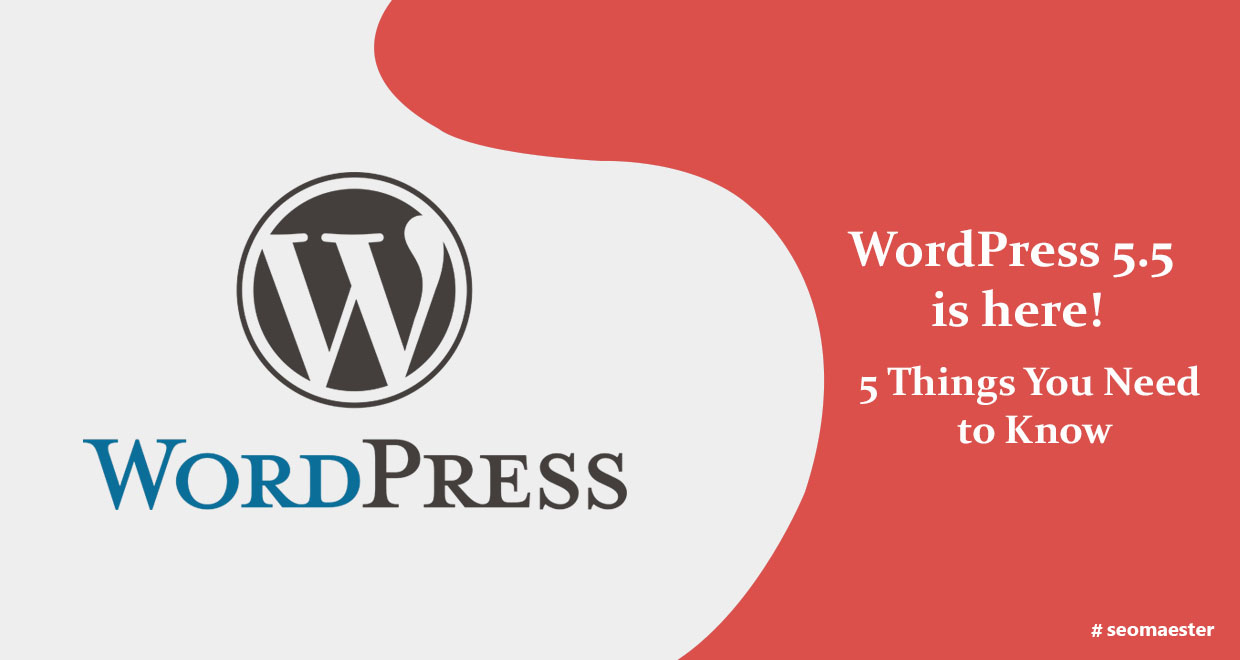 Lately, word press released a version at the start of the year. Not long after that, the release of the next update was announced. You have all been waiting for a WordPress 5.5 version. This is the second major release by WordPress. It has bought specific desired changes. The software is still under development. It is mentioned on their site. You need to give manual permission to download the next version. But the good news is all the features that we wanted to see are here now. It has come with a long list of new updates on themes and plugins.
Enjoy the listed features and make your blog posts advanced and innovative. Five most sought-after features have been listed. Continue reading:
1- Block editor improvements:
Before you read the details of the improvements you need to know about block editor. Block editor is also known as Gutenberg. It is designed to add columns and paragraphs on your site. It makes your site flexible. You can now design your pages as you like. This new version is not a setback. The number of columns is up to you. They may be limited right now but with each update, they will increase.
2- Auto Updated security and themes:
Most complaints that WordPress receives is the lack of security. The sites get hacked often because the login is easy to breach. Now you can sit back and relax. Many security issues are disclosed related to the plugin and themes.
Before you switch the auto-update option you need to know that by default yes enabling options are turned off. After downloading you need to enable the options. They will get automatic. Secondly, when you have given the permission time for the next update will appear immediately. It will be displayed at the bottom. You can regularly check for updates and requests there.
WordPress 5.5 Auto-update runs with its core. You can close all the extra access. You can enable code syntax form and database by approaching the page and visiting the plugin option. Allowing the auto-update is not difficult. All you have to do is click installed plugins in the plugin option. The enabling and disabling of the automatic update will appear. You can also reverse the installed version by turning the enabling option off. By doing this you have gained control over the plugin.
The other auto-updated option is of themes. The loading of the site and images was buffering before. Go to the appearance icon on the left and choose themes. Various themes will appear. Along with that, the details option is provided. You can visit and examine them by clicking on the details. Enable auto-updates in the description. It is a link highlighted in blue.
3- Fast image editing:
Would you prefer scattered images with loads of loading or smooth scrolling? WordPress 5.5 has allowed editing of the images within the window. You do not have to open the media library to edit. Change colors, size, and rotation by mere clicks inside the screen. WordPress has always provided exceptional editing techniques but now they are more accessible and easier to roll with. Another impressive feature is the lack of image loading. When you load the image, you can continue working. It may not show but the image has been successfully added. You will be able to view all the images at the end of your task. You can save more time and gain extra with this experience.
Before you read more, you must be aware of one flaw in this update. It depends on how you look at it. The new editing option is only beneficial for the standard image block. If another block is chosen you will notice that it will take you to the old method. The Media library will come in use then.
4- Better SEOs with XML sitemaps:
All content professionals know that search engines prioritize top quality web pages. To bring in more traffic you can now improve your blogs by identifying added features. You geta chance of improvement with the ranking on numerous sites. WordPress 5.5 XML Sitemaps help you in choosing trendy keywords and material for more views. You can narrow down your content to provide specifically what the consumers demand. Sitemaps exhibit all the URLs demanded and their details. Relevant URLs are also listed. This means that WordPress users can access lists of homepages. Core trademarks, archive archives, and post pages.
5- Upgraded content reviews:
When you write something, Gutenberg reviews the file for you. This will improve your skills before you publish your work. This update is available for all PCs, mobile, and tablets. You can modify your content to be more accessible and easier going so everyone can enjoy it. The new update provides a remark on the direction your content is going in. Make your work stylish on all screen types with the new update.