12 Important Things to Do Before Applying for Google AdSense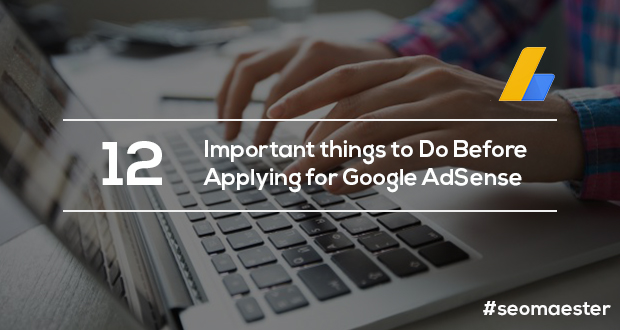 Google AdSense is one that offers ad publishing and works at Pay Per Click system. AdSense is provided to everyone who owns a blog through Google Blogspot and fully satisfies Google via high-quality contents.
There are many bloggers are making a complete living from their blog and earn a handsome amount. This is one of the reasons for it being the best among all the other networks available. The other reasons include paying rates better than all of the other networks which make it popular to all Bloggers. Google has made the approval system very tough nowadays. This means a little mistake you made, and you will get disapproved from the AdSense account.
Following are a few reasons why Google will reject your application.
The first reason is the Insufficient Content on your blog. If the Content is poorly written and have grammatical mistakes, Google will reject the blog right away. The Content should, therefore, be unique and qualitative. The other reasons include a good design which gives an impression. The pages should give the impression that you are a professional and that you are working according to the Google policies. Your website should be among those that drive traffic without any illegal source.
Before Applying for Google AdSense, the following 12 things should be done;
1. The first thing that you will need to do is to apply for Google AdSense and get approval. For this, you must have a privacy policy of the website. If you don't have, then we are sorry to say that you will not get any approval. A privacy policy is important as it means you are not a scam and gives the sense of a serious business. 
2. About page is also a compulsory thing to be made available it gives the sense of a serious business that simply describes who you are and what your blog is about. This will help you in establishing trust with the readers.
3. A contact us page is required to be created.
4. Putting your Name and Email address in some easily visible area will also help you. The visible areas include About Me and Contact Us page, etc.
5. While applying for Google AdSense account, use correct age and date of birth as it isn't for people who are under 18.
6. Apply when you have more than 50 posts on your blog that must be around 500+ words. Content should be qualitative.
7. When you are done with Content, now focus on the design as "The FIRST IMPRESSION IS THE LAST IMPRESSION". This represents your expertise, experience, etc. 
8. Be careful about the Content you are publishing, i.e. having posts shorter than 200 words in length is also Red Signal for not getting an AdSense account.
9. Valuable blog post on a regular basis should be published on regular basis.
10. A unique domain that specifies your blog is important. 
11. Ads from other networks should be removed.
12.Focus on getting traffic from legal sources as traffic from illegal source will become a trouble for you.
We hope that you will find our article useful. Do give us your feedback as it will help us in improving.