7 Really Bad Web Design Features You Should Avoid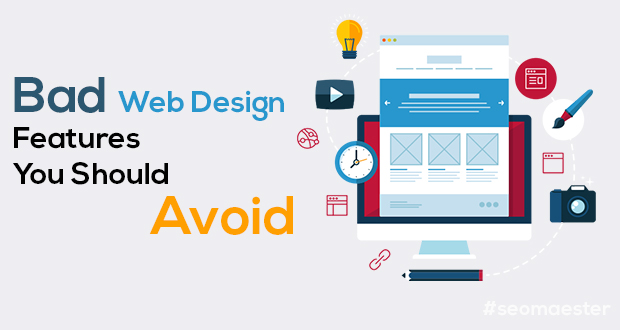 It is said that websites are more appealing, where they have an interesting design. A website owner is suggested to avoid a few web design features that may affect their website traffic. Website traffic is the most valuable thing that a website owner requires. Before setting a website, web design is the first thing that the owner focuses. It's just about the happiness of a website owner that is what design they find best?
We have discussed below 7 main web design features which one should avoid.
1- Bad Website Navigation
This is something that irritates readers as to when they are searching for something; they fail due to the following problems.
-No search bar
-poor navigation
-pages which do not explain what they are about.
-broken links
Your content is useless if the readers cannot find it. The best solution would be to find yourself something on a website and see what result you get. For the test, you should find a friend or a relative.
2- Website Text
Text is the most important part of a website design which you give less important. This makes the majority of your website. The bad text would ruin the design of your website. Example of bad text is listed as follows;
-too small text that cannot be seen by the reader.
-the underlined text which is not a link
It would be useless if the readers fail to read the text.
3- Website Background
This is being noticed by some users, whereas some don't even care what it is. When used properly, this is an addition to a website.
4- Overall Poor Design
The overall poor design feature of a website is normally ignored by readers as they focus more on the contents they are presenting. It includes the following;
– side-scrolling
– greater use of frames
– websites that do not appear.
In addition to this do ensure that the website you own is mobile-friendly as there is an extensive use of mobiles and tablets.
5- Images
Website design includes images as well. Using too much large will affect the website. A larger image slows the website. Use of images can be a reason for the big trouble that you might not have expected. Make sure you don't use large size images too much or any.
6- Website Links
These are at every website, but some websites make it difficult for readers to follow. If you are not comfortable with it, we suggest you all avoid all the broken links along with the links of similar colours.
In addition, we also recommend you to make links clearer for the readers to follow.
7- Useless Website Clutters and Junks
This includes too many things on a website which the readers normally don't like. Examples include many links on sidebars, too many adverts, etc. We recommend you to use less as it is always good.
This was all. We hope now you understand what design features to avoid so that your website should be the best and get the highest traffic.
We would like you to comment on any other design feature that you feel we should avoid.