How Technical SEO Helps You Provide Better User Experience?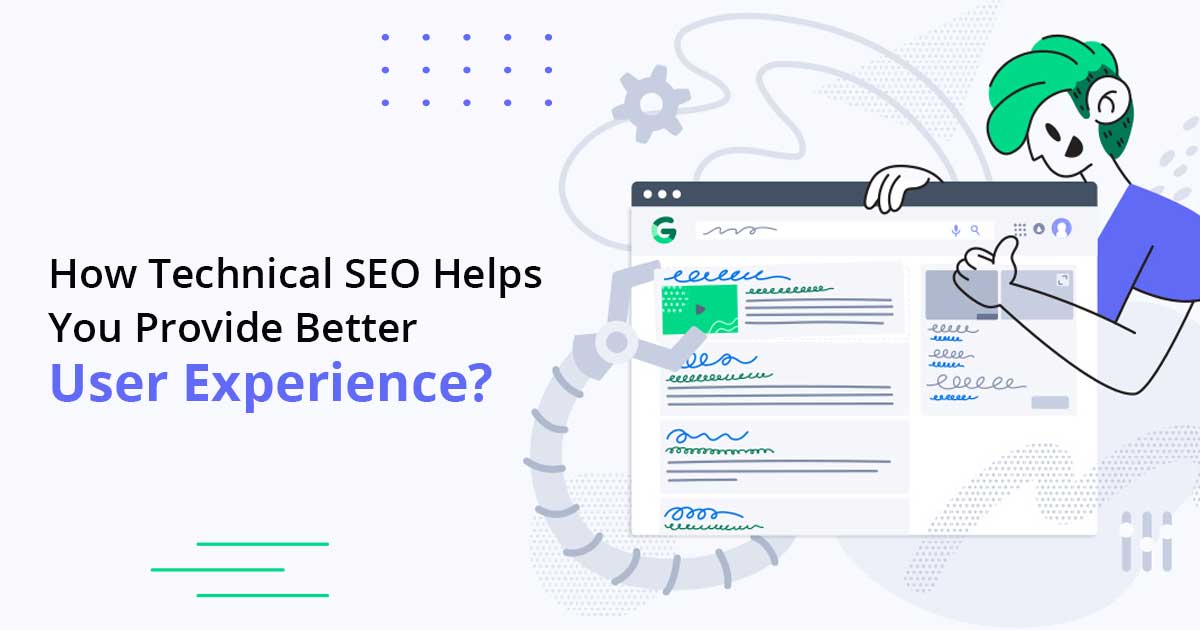 Time and again, SEO experts have been shouting about how important technical SEO is for ranking. However, the impact of technical SEO in maintaining a good user experience is rarely discussed.
SSL certification, page speed, Accelerated Mobile Pages (AMP), Mobile-friendliness are some of the tech SEO actions.
User Experience and Its Importance
An average broadband user in the US surfed 138.1 pages per day in 2007. Over the decade, there has been a massive improvement in the internet speed, accessibility and offerings on the website, which would have only contributed to the growth of that number. Now, among hundreds (if not thousands) of webpages visited each day, how does yours stand out for the users? When a user finds the information on the page relevant along with good user experience.
A good user experience makes the user return to the website, and there are better chances that Google will recommend it in search pages and this improves page ranking.
Since Google has announced their new algorithm "Core Web Vitals" which is about to go live and that is completely about the user experience of any webpage. Companies have started working towards the same or if not I'll definitely recommend focusing on Technical SEO & User Experience. Improve the page speed, mobile-friendliness, fix broken links and many more.
Factors responsible for User Experience
There are so many factors that are responsible for User Experience that take into consideration every aspect of user interaction, such as how long does the user have to wait before it loads, does the user find the right information, or has to struggle a lot to findit and such other components. Let's discuss what are the factors that will be responsible for user experience.
1. Page Speed 
Page load speed has always been Google's favorite and it has become even more important as Google announced about the "core web vitals" last year and created a new section in Google Search Console with the errors and suggestions. I would take an example here: if you visit any website that does not load in 2 or 3 seconds there will be a high possibility that you will leave that page. More Page load time results in a high bounce rate and is directly proportional to the low conversion rate.
How to solve the slow Page Speed problem:
Choose a reliable hosting plan
If you are a WordPress user- use plugins as minimum as possible
Compress images while uploading
Host videos on Youtube, Vimeo, or on other third-party platforms
Use the browser caching option
To check the speed of your website you can use Google Page Speed Insights or GTmetrix.
2. Mobile-Friendly Website
Mobile-based browsing is growing at a rapid pace and various search engines give preference to mobile-friendly pages. At the same time, Mobile-friendly websites improves the user journey of any website on Mobile and helps the sites to rank better on mobile devices along with the improvement in lead generation.
Generally, 50% to 70% of users browse through mobile and if your site satisfies visitors with the UX then definitely they will return to your site. A few years back, Google announced an update about the Mobile-Friendly Website. Companies do not focus on Mobile SEO and realize the importance of Mobile-Friendly websites. If you don't have a mobile-friendly website this leads to poor SEO and there will be fewer chances that users visit your website in the future.
Prevent bad user experience on Mobile website:
Improve website speed on mobile
Make the website design responsive on Mobile
Unnecessary pop-ups
Easy to use the navigation bar
If you want to check whether your website is mobile-friendly or not you can check this with Google's Mobile-Friendly Test tool.
3. Easy Page Navigation & Website structure
Page Navigation is the links on your website that connect all the internal pages. The purpose of the page navigation is to allow visitors to find the relevant pages on your website. As I said earlier, Google prefers websites to rank those that have a good user experience.
Many companies do not focus on easy navigation bars and fail to make a good website structure where visitors are unable to find the information on the website they want to see. I'll share some tips on how you can make a website structure that is easy to navigate.
What you should avoid while working on-page navigation/ website structure
Easy to use the menu bar, avoid complexity
Clean the footer, avoid using the same items that are already on the menu. Although, company information should be there in the menu as well as in the footer.
Mobile friendly menu and navigation
Internal linking
Make menu sticky
Use a search bar where people can look for exactly what they want.
Broken Links or 404
Broken links on your website can hurt your website user experience. 404 links are not only bad for UX but can be very problematic for SEO as well. Make sure you are auditing your website regularly as the Google Bot crawls every page on your website. If your site has some broken link that is ranking in the top 10 on Google, Bot will make that page non-index and you will lose the ranking & traffic.
How to avoid Broken links?
When you are changing any page URL make sure you are redirecting the old URL to the right page. So if the old URL is present on your website or externally visitors will land on the right page with the proper redirection.
Let's talk about how you can find & fix the broken link.
If you have a very small website, then you can manually check all the pages of your website. In case you are maintaining a website with a large number of pages then I recommend you to use popular tools such as Semrush or Ahref. Also, do visit your important pages once a day to check whether everything is working properly.
Apart from the above-mentioned points, you should focus on user-friendly content and clear CTAs, unwanted Popups, minimal ads, page overall design should not white spaced or the content flow. Use relevant Faqs, anchor tags.
How to make your website User friendly?
I would like to add my personal experience on how we worked on Technical SEO to improve user experience and website traffic. Working in Ameyo,  a B2B brand that offers Customer Engagement solutions, I audit my website 2 times a week with the help of Semrush Site Audit and fix all the errors and warnings that can hurt SEO and cause bad user experience. Recently we migrated our website and customized the site on WordPress so that there will be minimal use of plugins.
Furthermore, I am a big fan of schema structure. It is easy to implement and adds a great SEO benefit for your website. At the same time, it improves the experience for the users as they are able to find the right solutions before they visit your website.
We have implemented FAQ Schema and Aggregate Rating Schema on our webpages and that leads to the improvement in ranking as well as CTR. Below is the example of aggregate rating schema.
Aggregate Rating is a type of rich result that shows the rating of any web page in search results. This can be displayed by adding aggregate rating schema on the webpage. Below is the one example of how it displays rating in search results.

Along with this, Compress all the images while uploading, host videos on Youtube, and add video links on the page so that it does not slow down my website speed. We use a tool for generating heatmap and recordings to watch how users are interacting with our website and if there is any scope for improvement.
Conclusion:
Like On-page SEO and Off-page SEO, Technical SEO has become important for any website. If you miss out on any of it, you are missing on rank, clicks, customers, and business. In this article, I have discussed what are the aspects that are responsible for UX like; Page speed, broken links, Mobile friendly website, website architecture, easy-to-understand content, use of fewer plugins, and more.
What's your experience with tech SEO? Let me know your thoughts on it in the comments.